Notre Dame Fire Might Have Been Sparked by 'Electrical Short-Circuit'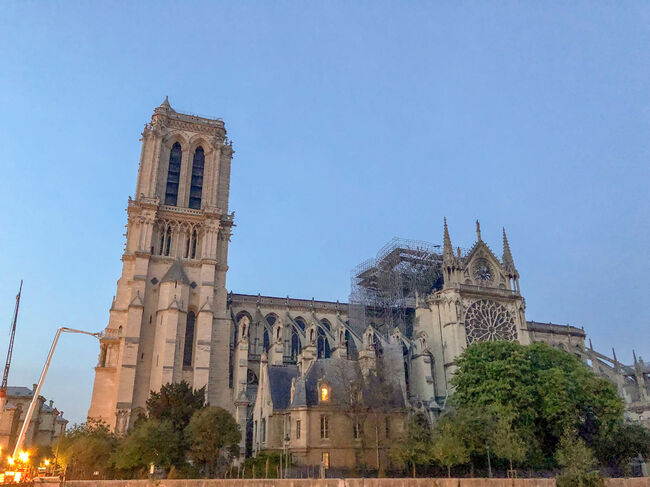 Investigators in Paris are investigating whether the fire that devastated the famed Notre Dame Cathedral earlier this week might have been sparked by an electrical short-circuit.
According to multiple reports, a French judicial police official who spoke anonymously to reporters, investigators are still being held back from working in the cathedral and search in through the rubble for safety reasons. The cathedral is still being secured by workers who are erecting wooden planks to help support some fragile parts of the walls. That means investigators still don't have access to the area. Officials are pursuing the theory that the fire was started by accident and may have been started thanks to a $170 million restoration project that was going on at the 850-year-old cathedral.
Paris prosecutor Remy Heitz told reporters this week that the investigation into the cause of the fire would be "long and complex."
"While the prosecutor's office does not rule out any hypothesis, we remind that at this stage, nothing in the investigations highlights a criminal origin. Accidental causes remain our privileged lead," the prosecutor's office told CNN.
At least fifty investigators are actively working the case.
The major fire broke out Monday at Notre Dame just as people were the iconic symbol of Paris causing the spire and part of the roof to collapse. People around the world watched in horror as the fire ravaged through the monument as fire fighters struggled to save the structure.
Firefighters were able to knock down the fire nine hours after it began before it was finally extinguished by fire crews. Firefighters managed to save most of the building's frame, as well as the artwork and historical artifacts contained within the historic cathedral.
So far, nearly one billion dollars has been pledged to help restore the landmark. French Prime Minister Edouard Philippe announced Wednesday that an international competition would be held to help decide who will get to design the reconstructed spire.
"Should we reconstruct an arrow? The same? Adapted to the techniques and challenges of our time? An international architecture competition for the reconstruction of the cathedral spire will be organized," Philippe wrote on Twitter.
French President Emmanuel Macron said he hopes to have Notre Dame rebuilt within the next five years.
Photos by: Lauren Aghajanian